24.07.2013
Deutsche Mittelstandsfinanz and HFG China advised Mithril GmbH on the sale of Global Solar Energy to Hanergy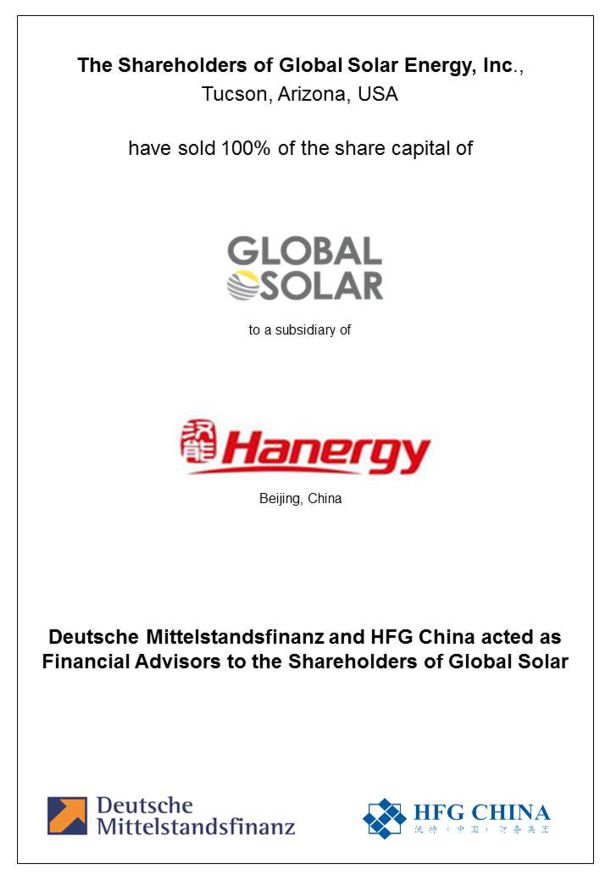 Frankfurt am Main/Shanghai, July, 24th 2013
Deutsche Mittelstandsfinanz and HFG China acted as joint financial advisors to Mithril GmbH, a Ger­man family office, representing 100% of the shares in the sale of Global Solar Energy, Inc. (Global Solar) to Hanergy.
Founded in 1996, Global Solar is a pioneer of the solar industry. The company is the world leading manufacturer for the full-scale production of CIGS (Copper Indium Gallium diSelenide) light-weight, durable, high efficiency solar products consisting of flexible cells, modules and integrated shingles. Global Solar's modules are designed for key segments of the high-end, high-growth flexible solar mod­ule market, especially when glass module systems are unsuitable due to weight restrictions and flexibil­ity needs. Global Solar replaces traditional glass solar module products and designs integrated photovoltaic (BIPV) roofing systems. The company has a facility with an annual thin film production capacity of 40MW.
Hanergy Holding Group Ltd. is a multinational clean-energy power generator and the world's number one thin-film PV company. It engages in the integration of the entire photovoltaic industry chain, cover­ing R&D, high-end equipment manufacturing, PV module production and the construction of photovol­taic power plants.
Mithril GmbH took the strategic decision that, after having developed Global Solar into a mass scale production company, a large international strategic partner would be best suited to further commercial­ize Global Solar's unique technology. Through this 100% acquisition of Global Solar, Hanergy is fur­ther strengthening its competence and service offering in the thin film segment, which is an important focus area in its growth strategy. Deutsche Mittelstandsfinanz and HFG China enjoyed working in this transaction with the restructuring expert Johann Stohner of Alvarez & Marsal and Chris LeWand of FTI Capital Advisors.
HFG China and Deutsche Mittelstandsfinanz worked as joint financial advisors to Mithril GmbH.