Company succession: Deutsche Mittelstandsfinanz advised the shareholders of Achilles Seibert GmbH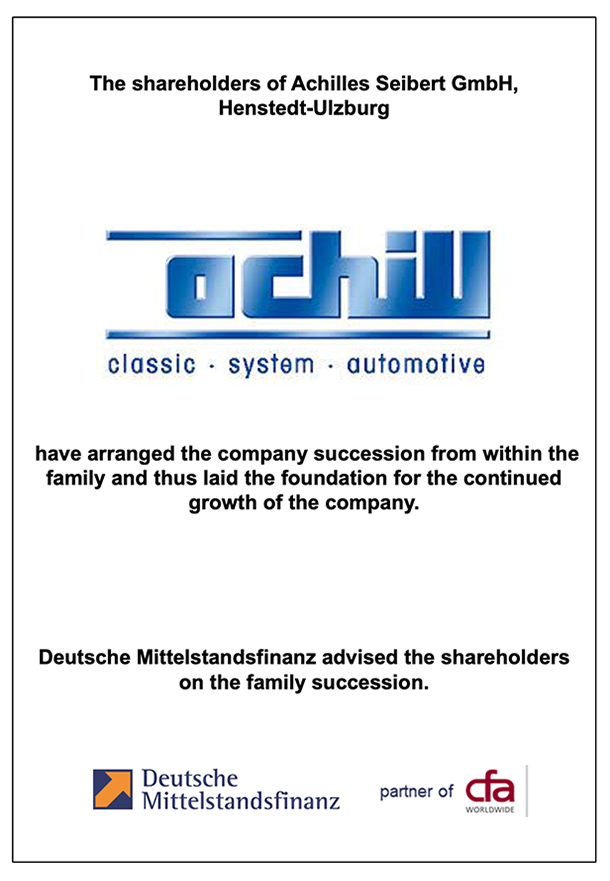 Deutsche Mittelstandsfinanz (www.dmfin.com) advised the shareholders on the company succession of Achilles Seibert GmbH from Henstedt-Ulzburg near Hamburg. 
Achilles Seibert is a leading wholesaler of screws and fastening elements for the automotive industry, among others. The company, which has been established for 70 years, is one of the oldest and most important wholesalers in the C-parts segment for special screw formats in Germany.   
Achilles Seibert has grown strongly in recent years. 
In the course of the succession, Timo Scholle took over the shares from Henning and Marion Scholle and became the sole shareholder of Achilles Seibert.
The successful implementation of the transaction has laid the foundation for Achilles Seibert's next growth steps. At the same time, economic compensation was provided for the family members who will not (or will no longer) be working in the company in the future. This ensures that Achilles Seibert will continue its success story as a family business even in the future.