Deutsche Mittelstandsfinanz managed the sale of bauwandsystem GmbH as exclusive M&A-consultant.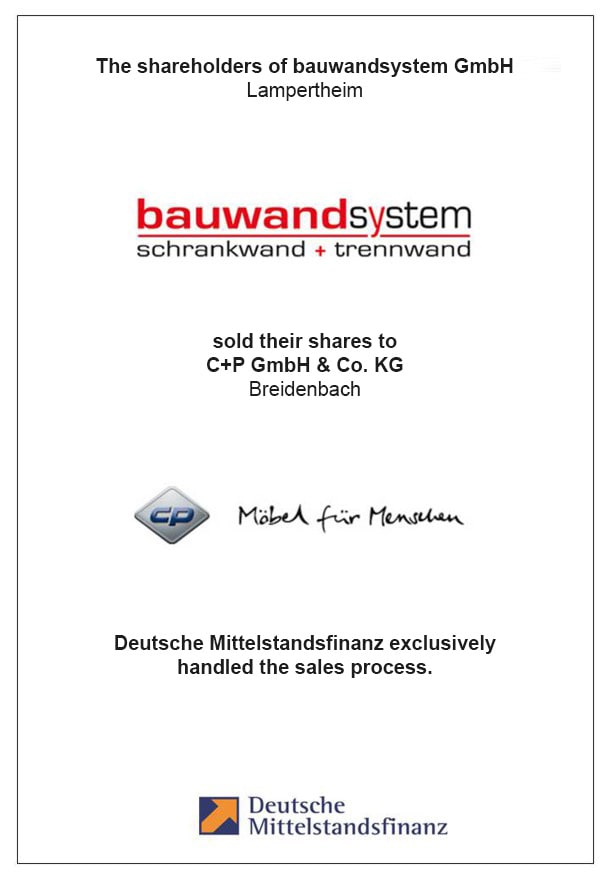 As part of a structured sales process Deutsche Mittelstandsfinanz (www.dmfin.com) as exclusive M & A-consultant advised bauwandsystem GmbH (www.bauwandsystem.de), Lampertheim, on the divesture to C+P GmbH & Co. KG (www.cp.de), Breidenbach.
bauwandsystem is one of the technologically leading suppliers of high-quality systems for partition wall and wall units in the German-speaking region and the only company to offer partition profiles based on aluminum frames.
C+P Group (approx. EUR 150m turnover) is one of the most important suppliers of steel furniture in Europe and offers its own system of partition walls. The takeover creates one of the largest suppliers of partition walls in Germany. At the same time, the transaction ensures the mid-range corporate succession at bauwandsystem.